About Us
The Outfitter- Bob Irvine
The Hunt For Your Next Trophy Starts Here
Welcome to WOLF-CREEK OUTFITTERS.
My name is Bob Irvine and I would like to take this opportunity to introduce myself and my company. By providing you with some details, I hope to give you confidence in booking your next hunting adventure with Wolf-Creek Outfitters. When considering a guided hunting trip, it is always prudent to consider the credentials of the outfitter who will be responsible for your success and happiness. So with that in mind, here is a little information about me: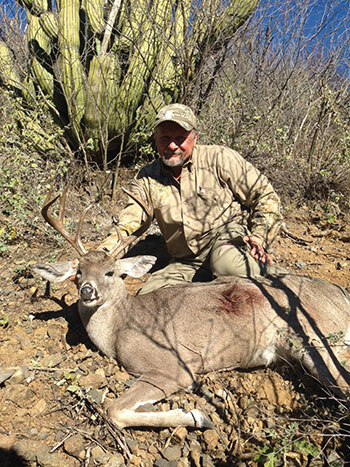 I qualified for my first guide's license in 1983, and began conducting, on a small scale, Whitetail and mule deer hunts through out Alberta. Through out this time I also spent five seasons in the Northwest Territories as a guide for Arctic Red River Outfitters hunting Dall sheep and Caribou. In 1988, I started Wolf-Creek Outfitters. I have worked hard to improve and expand my company. As for accreditation and affiliations, I am a member of the Alberta Professional Outfitters Association, the Safari International Club, and the Sheep Foundation.
Over the years, Wolf-Creek Outfitters has grown but not to the point of being too big. I like to provide that personal touch and attention that you will require when hunting trophy animals. It's the only way I know how to be a successful outfitter. My guides are area land owners and we hunt lands that are exclusive to our operation. This goes along way to provide you the best hunting conditions possible. I believe in quality and ethical hunts, and I strive to provide you with the best hunting adventure possible. After 30 years in the industry, I have come to believe in two things:
Quality, not Quantity, and you get what you pay for.
My hunts are all fair chase and depending upon the species, terrain, and conditions are conducted by using 4-wheel drive, ATVs, hunting towers, tree stands, spot and stalk, or walking/backpacking. Wolf-Creek Outfitters, over the years, has harvested many trophy animals. Many of these animal have scored high enough to reach the record books in Boone & Crockett and Pope & Young. The bottom line here, for you, is that your hunt will be conducted on an ethical, safe, law-abiding, fair chase basis. I pride myself very much on this.
Wolf-Creek Outfitters offers the following available species for your next hunting adventure: Whitetail Deer, Coues Deer. I also offer a specialized Wolf / Coyote hunt, trap-line tours and migratory bird hunts. I look forward to you joining us for a fantastic hunt.
Bob Irvine
Want to know how our 2015 hunting camp went?